2 & 4 Celebesstraat, Den Hague, Netherlands in the 1930's
Carl Sens had a clock factory called Sens Klokken (Sens Clocks). There was two three-story buildings number 2 and number 4 Celebesstraat in Den Hague (The Hague) bottom story of the building was a retail outlet; above it on the second story was a manufacturing clock factory.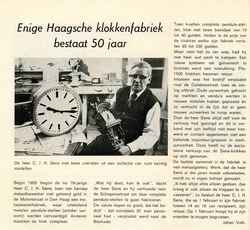 Carl Sens, Magazine Article
This included workshops and a dust free room for intrinsic repairs as well as an office. Carl's family home was at the top of one of the buildings, consisting of his wife and his fourteen children, including Caspar Carolus Sens, the founder of Sens Jewellers Bendigo.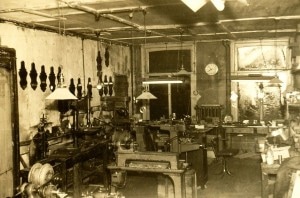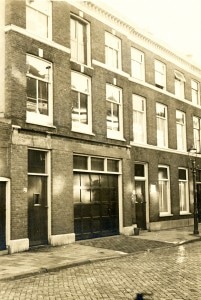 Left to Right: Sens Klokken Workshop, Sens Klokken Factory 2 Celebesstraat Den Hague. 
Among is siblings Cas helped his father run the clock factory from a young age, working as a hand engraver and clock/watchmaker until he joined the Dutch army at the age of 16. After serving in the dutch army after World War II as a peacekeeper in France and Indonesia, Cas returned to The Hague to work for his father, however he was very unsettled.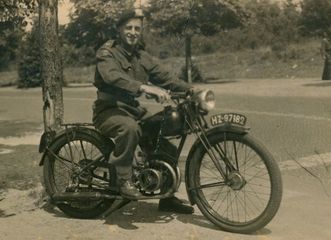 Cas Sens in the Dutch Army
Mitchell Street Bendigo, Australia in the 1950's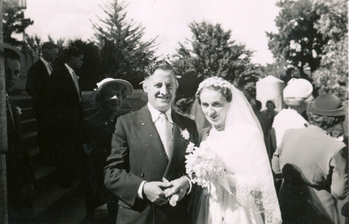 Caspar and Lillian Sens on their wedding day, 1956


In 1954 Cas arrived in Melbourne working as a hand engraver, and not long after he traveled to Bendigo seeking work as a watchmaker and hand engraver.
Four years on in 1958, Cas opened C. C Sens Jewellers in Mitchell Street. As the success of the business grew Caspar moved to several different shops around Bendigo. In 1976 Cas' two sons Noel and Paul joined their father on the bench at their shop in Pall Mall and became qualified Jewellers.
Mitchell Street Bendigo, Australia in the 1970's
After becoming C.C Sens and Sons Jewellers, the trio including watchmaker/Engraver and two Jewellers served their community for many years, selling everything from clocks, pens, to engagement rings and wedding bands.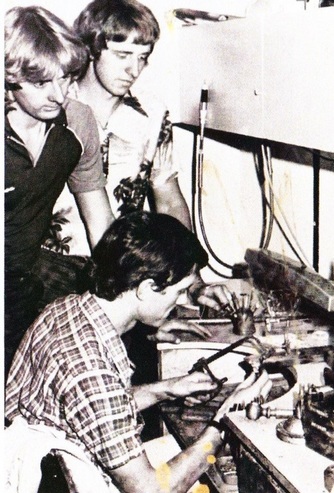 Paul and Noel Sens with Adrian in the workshop in the late 1970's
After Semi-retiring Cas handed the business over to Noel and Paul and they began trading under Sens Jewellers from their location in Fountain Court. Sens Jewellers then moved to Hargreaves Mall and have been manufacturing and servicing customers and the community for the past 12 years.
Clocks are no longer the specialty at Sens Jewellers, however Noel and Paul still specialise in creating custom jewellery for special occasions, whether it is for an engagement, birthday, anniversary or transforming old jewellery into something new!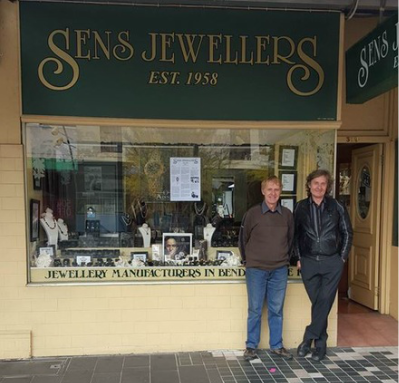 Paul and Noel Sens in 2015